MaxWheels foldable Electric Scooter has a forward-thinking design that inspires and moves, just as it moves you ahead.
Folds in 3 easy steps - Flip, fold, clip.
Simply flip down the folding lever to fold, and the scooter bell catches onto a latch on the rear wheel. The result is a compact and secure folding design that's perfect for stowing Electric Scooter away at home, in the office, or in the trunk of a car.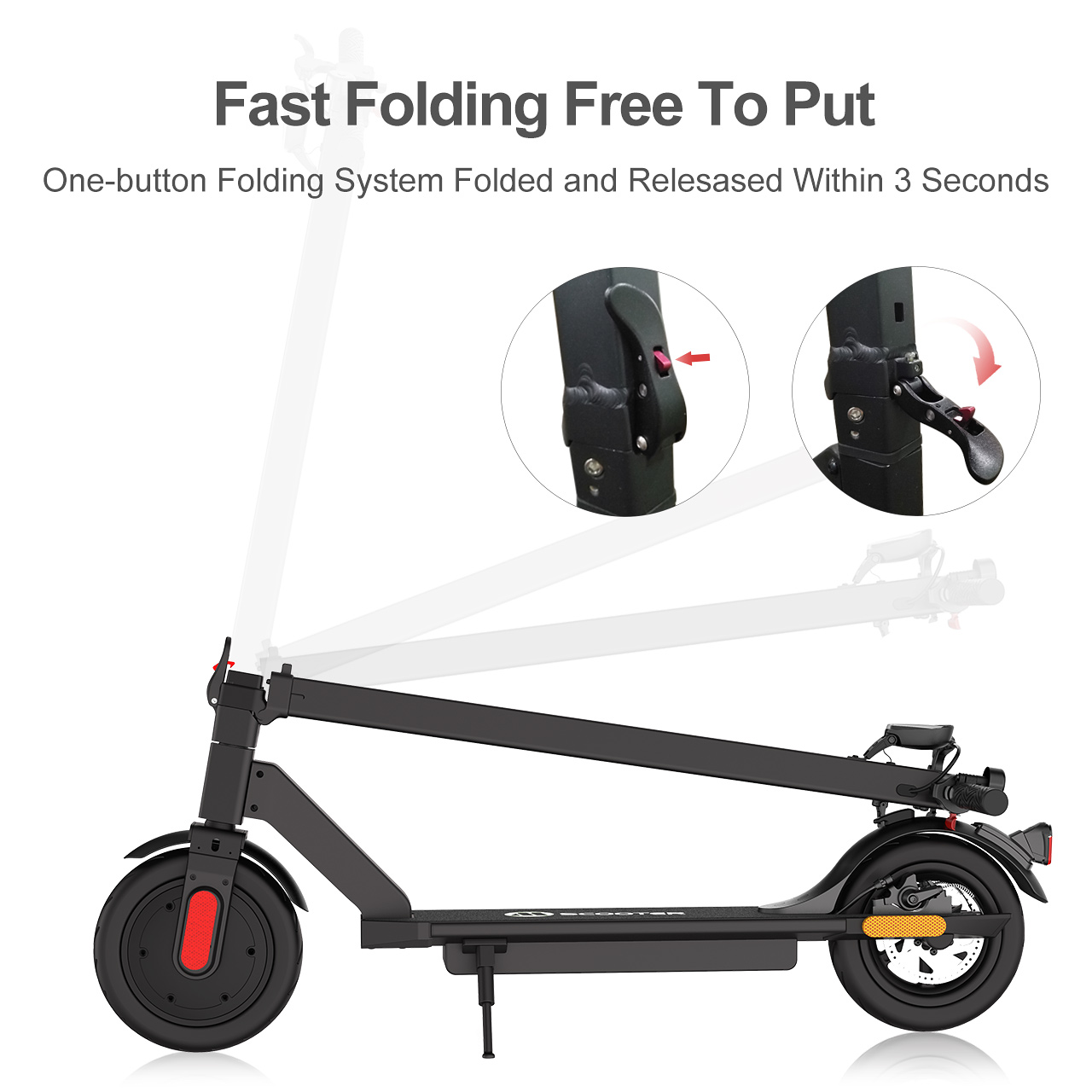 The aerospace-grade aluminum frame weighs just 12.5kg
The sturdy frame is made of aerospace-grade aluminum, which has a low density and high structural strength. It also has excellent thermal conductivity and corrosion resistance for added durability. At just 12.5kg, Electric Scooter is a great portable size and weight for carry-ons and for maneuvering stairs and pavements.
Ultra-bright headlights
Headlights are essential for night riding, yet not all scooters have them. Electric Scooter features an ultra-bright 1.1W headlights with a range of up to 6 meters for added safety.
Red taillights for braking
Red taillights flash distinctly while braking as a warning to other pedestrians and vehicles on the road.

MaxWheels - Foldable Electric Scooter specs: 
Maximum load: 120kg / 266lbs

Speed: Up to 16 mph (2-speed setting)

Travel distance: Up to 16 miles (depending on the driving style)

Motor: Brushless 250W motor

Battery: lithium-ion 36V , 7.5Ah , 7500mAh

Light system: LED front and rear lights

Tires: 8.5-inch pneumatic tires

Weight: 12.65 kg

Charging time of the battery: approx. 3hours

Recommended age: 16-60 

MaxWheels - Foldable Electric Scooter package includes:
1 x Electric Scooter 

1 x User Manual

1 x Power Adapter

1 x Mains Plug

1 x T-shaped Wrench
We offer Free standard shipping for all orders. Orders are shipped on business days only (Monday-Friday). Please allow 4 to 15 days for your order to arrive.
This product is in high demand. We are so confident you will love it that we guarantee it. Try it risk free within 30 days or your money back Guaranteed. No questions asked.