Revolutionize your RC Collection or Bring a Smile to your kids or Someone Special with a toy they've never seen Before! Introducing the CrawlyCar™, the COOLEST Remote Control Rock Crawler car, the NEW way to enjoy Remote Control Cars! 
My kids love it and it became like their favorite toy! They even prefer it over their tablets, which is very hard to achieve nowadays... - Sophia 
By a simple hand gesture, CrawlyCar™ is able to transform from a race car into a powerful 4x4 beast within milliseconds.
Raise your hand and it turns into something similar to an off-road vehicle.

Lower your hand, and it can be in its "sports car" form.
***NOT SOLD IN STORES***
Whether you have kids or a car-loving partner, CrawlyCar™ rock crawler remote car is the Perfect Gift. 
This super cool Remote Control Rock Crawler Car responds to hand gestures, responding to to sophisticated motions of your palm! Just wear the wristband to make the car move in different directions, speed up, slow down, and even transform!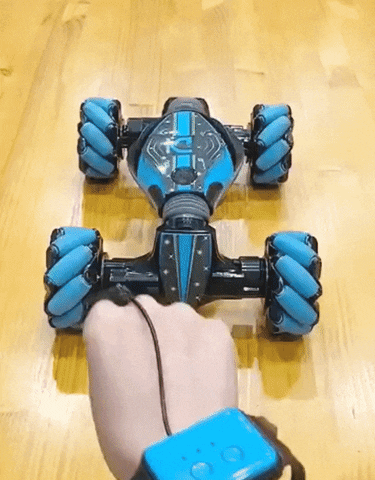 If gesture-control is not your thing, we've indeed made sure, that even you are going to feel satisfied with TwistyCar™. We also included a regular, old-school remote control with your familiar levers and buttons. With the very same effectivity and functionality as our gesture-control remote.
CrawlyCar™ - Remote Control Rock Crawler Benefits:
Double-sided drive design: Because the car has a unique double-sided design, it can be flipped and driven on both sides. Even if you encounter obstacles, you can continue driving while hitting the wall and turning over. Made of metal and plastic, it has wear resistance and pressure resistance.
One-click conversion: suitable for running on any terrain. Just click on the switch button on the remote control, its body will bend, the four wheels will be tighter, and the ground will be stable. The car will change from a flat shape to an off-road vehicle.
Applicable indoors and outdoors, flat hills: Strong power, high speed 25 km/hour, can run perfectly on various surfaces indoors and outdoors, such as cement floor, terrazzo floor, cross country sports and so on
Anti-interference, easy to operate: 2.4 GHz radio control system has good anti-interference performance. The remote control distance is approximately 150 meters, allowing multiple cars to play without interference.
CrawlyCar™ - Remote Control Rock Crawler Specs:
Battery: 7.4V 1400 MAh battery
Battery life: 45-60 minutes of heavy usage
Size: 42 x 22 x 9.5cm
Weight: 2kg / 4lb.
Main material: ABS
Recommended age range: 3+
Certifications:

 

CE
CrawlyCar™ - Remote Control Rock Crawler Package includes:
TwistyCar™ - An ultimate RC car
Gesture-control remote
Classic remote with levers 

& buttons

Battery

Charging cable

User manual
We offer Free standard shipping for all orders. Orders are shipped on business days only (Monday-Friday). Please allow 4 to 15 days for your order to arrive.
This product is in high demand. We are so confident you will love it that we guarantee it. Try it risk free within 30 days or your money back Guaranteed. No questions asked.