For a practically perfect remote control car at a decent price, look no further than this our Bigfoot 4WD Remote Control Car truck . It boasts all the standard 4WD features with great design, waterproof ESC, powerful brushless motor, and waterproof receiver box, but it costs less than half the price of many of other models.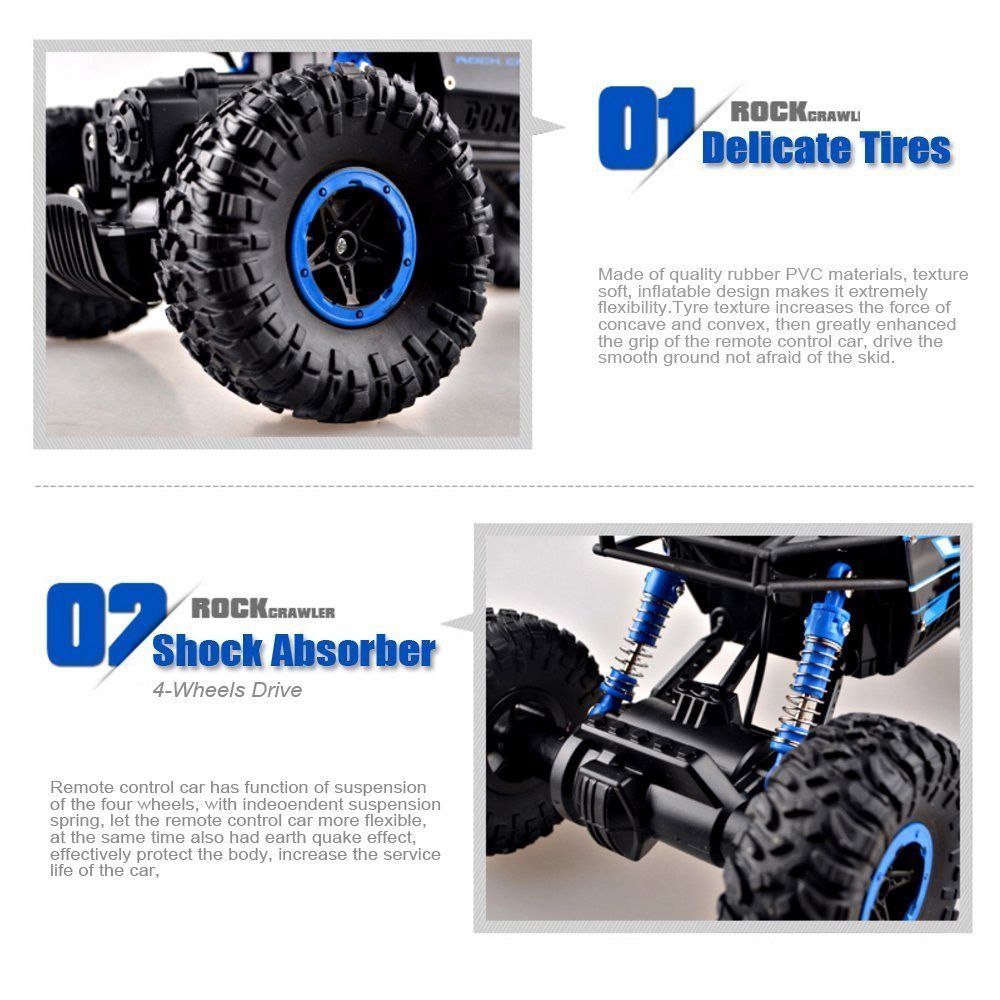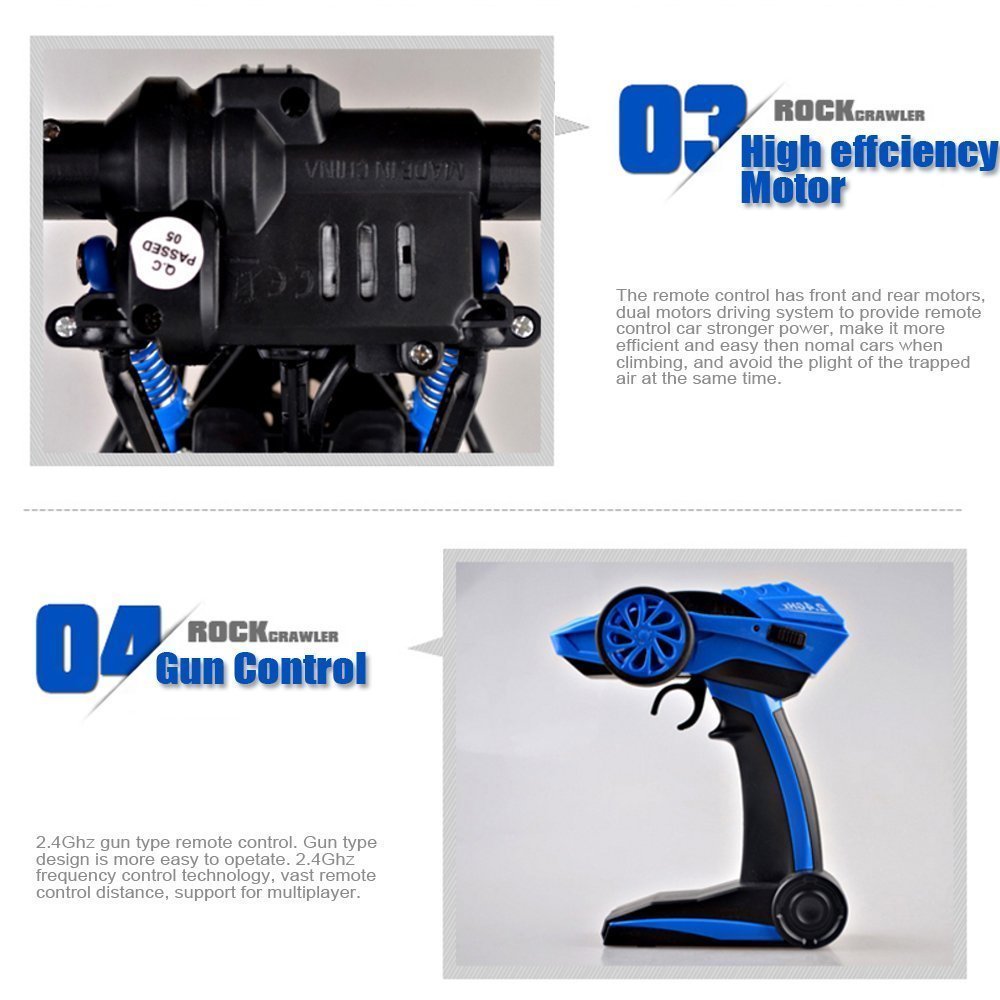 4WD RC Monster Truck Off-Road Vehicle 2.4G features:
High strength of the shock.
Strong climbing capacity and long- lasting power .
Oversized tires let you infinite enjoy crazy off-road.
With high quality raw materials, more durable crashworthiness.
Super-strong anti-collision is designed to help protect the crawler.
2.4 GHz frequency, low power consumption, two way transmission, strong anti-interference.
4 wheel drive and double powerful motors enable it to do stunner stunt, give you real experience.
A stunning off-road vehicle for indoor and outdoor use, such as in sand, small rocks, and other rugged land.
Excellent to climb over objects indoor/outdoor, run on smooth, uneven or rough terrain like ground, grass land, sand land and rocks.
Shockproof-Oversized rubber wheels and stable shock absorbers.
The Rock Crawler remote controlled car is about 270mm long, 160mm wide and 130mm high.
Manufactured by Velocity Toys, Battery Operated (Rechargeable), Full Function Pro Steering (Go Forward and Backward, Turn Left and Right), Adjustable Front Wheel Alignment, 4 Wheel Drive, Capable of Tackling Various Terrains & Obstacles with Ease!
PRO 2.4GHz Radio Control System for Uninterrupted, Interference-Free Driving, Race Multiple Cars at the Same Time, Body
Color Striped Wheels with Premium, Semi-Pneumatic, Off Road Oversized Tires!
Package Included:

1 x HB-P1801 Rock Crawler RC Car Blue
1 x Transmitter
1 x 4.8V 700mAh Nmh Battery Pack
3 x 1.5V AA controller Batteries
1 x Charger
1 x English Manual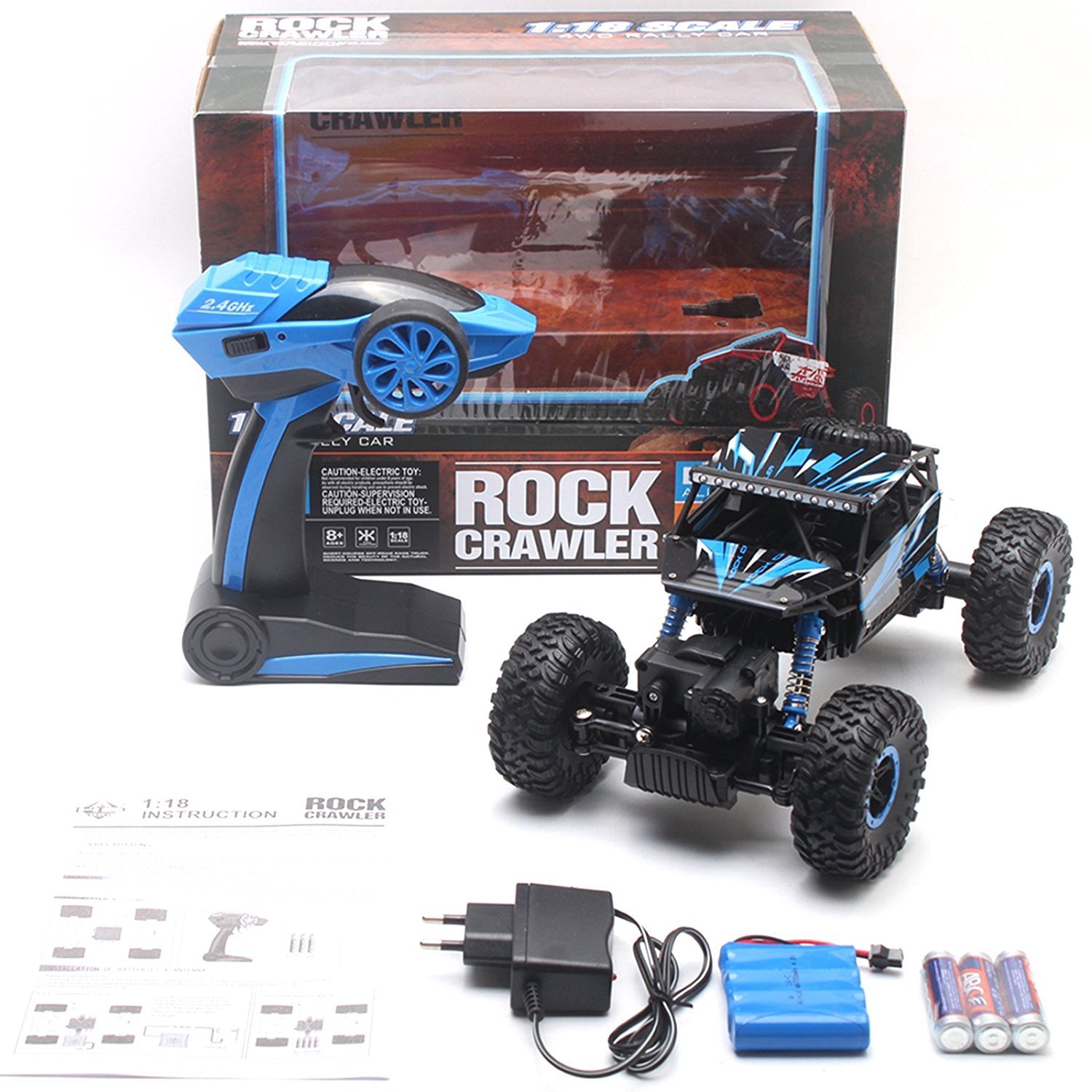 We offer Free standard shipping for all orders. Orders are shipped on business days only (Monday-Friday). Please allow 4 to 15 days for your order to arrive.
This product is in high demand. We are so confident you will love it that we guarantee it. Try it risk free within 30 days or your money back Guaranteed. No questions asked.